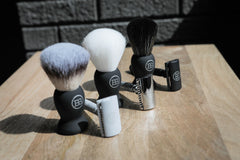 Not all razors are created equal and here we'll go into a little more depth of the origin of how we developed our double edge razors.
What goes into our Safety Razors?
Several years back we partnered with a medical manufacturing company. They specialize in making the intricate metal tools for a dentist. We approached them with Battle Brothers Shaving Co.'s mission, to work with us in developing a high-quality razor. A much simpler task from them! We set off making different variations, lengths, sizes weights and colors.
What we ended up with was a combination of the work. The handles are made from small blocks or rods of stainless steel. Then milling machines carve them into the what you see here. Now stainless steel doesn't stain or rust as quickly normal steel does. To help prevent corrosion and extend the life of the product we apply the coating. It also helps make it look good. We market these as high performance because of its origin and construction process.
The heads are made out of brass. It was a no-brainer for us because they have little to no iron. It has a very low chance, if at all, or rusting. It can, however, over time become tarnished if not taken care of properly.
High performance stainless steel and brass head
Finished and textured handle for secure grip
Razor head angled for an outstanding shave, every time
Field strip with ease with only three parts
Dimensions 10.5×2.5×4 (cm)
Weight 3.68 (oz)
Remember,
Keep your friends close, and your shave closer!
Battle Brothers Shaving Co.
Founder Andrew