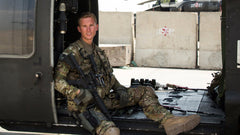 The true beginnings of
Battle Brothers Shaving Co
come from my deployments to OIF (Operation Iraqi Freedom) and OEF (Operation Enduring Freedom). I was a UH-60
Black Hawk 
helicopter crew chief for medical evacuation. Our unit was broken down into 4 smaller teams spread over 4 different locations throughout the country. There were 20-25 soldiers per team, with 2-3 helicopters each. Our mission was to provide medical assistance, support and evacuation to anyone in need; military, civilian, animals and enemy alike. Everyone was given equal treatment 24/7.
Living at a small forward operating base (FOB) has its own unique challenges. Month after month we ate, slept, laughed and fought together. As the missions went on, our bonds strengthened, a brotherhood was formed. Amidst the chaos of life on deployment, we found simple things to take joy in……like shaving! What started out as a requirement, turned into a hobby and then became a mission to find the perfect shave! Between the whole team, we had all sorts of razors, blades, brushes, soaps and techniques to test, try and compare. Through this process we discovered that, while using high quality products, each person needed a slightly different technique to achieve their own best shave. This little time of luxury, that turned into a group hobby, inspired my own personal quest of finding the best shaving experience for each individual's customized shaving needs.
Battle Brothers Shaving Co. is a company for warriors, by warriors. It was born out of brotherhood, service and self-sacrifice.
With attention to detail and uncompromising quality, our products are designed to invite you into the luxury of customizing your own exceptional shaving experience. Our razors are designed for easy maintenance. All of our varieties of brushes are handmade and our razor blades are manufactured with high grade stainless steel.
As a professional, you want to look and feel your best, while preforming your best. You should also expect nothing but the finest performance in the tools that you use. Start the day in confidence, with a shave of equal quality.
Keep your friends close, and your shave closer.
Remember,
Keep your friends close, and your shave closer!
Battle Brothers Shaving Co.
Founder Andrew