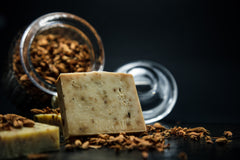 Meet our master of suds!
Hey, I'm Robert! As Battle Brother's Soapologist, my passion for shave soap started when I was a young lieutenant in Iraq, and I was going bald. I tried many products on the market, but they didn't perform the way I wanted them to. 
After leaving the Army, I needed to find my next mission in life, and I thought, "why not make a better shave soap?' Like a good infantryman, I got to work. So for a year, I researched and researched and researched some more. I had many failed soap experiments, but eventually, I came up with a winning soap, and thus Dapper Guru was born. My passion is to create the best natural shave soap on the market and help men look their best every day.